The Best Way to Reach Out and Collaborate With Brands
You must establish two important things to succeed as a social media influencer. You must have a social media presence with followers and have good products to review from quality brands. But how do you brand collaborations the right way? How do you build a relationship with brands? We will explain.
Brand Collaboration: Getting started
If you are very new and need instructions on how to begin your influencer career, click here. However, most of you have come to this site for a specific reason. You already have your social network in place and are looking for products to work with.
Many social media content creators need to work on addressing this. They seek out products that people are talking about. Then they email the brand, ask for a free product that they will use, and then review on their social media pages. The concept is sound, but this is a slow and often ineffective way to do business.
The PopTribe way is better. The brand gets an honest review, and the social media content creator gets free products. It is a fair and profitable exchange. However, this is extremely time-consuming. Brands get requests like this every day. Many will not take the time to research a content creator to ensure they are a good fit.
The more effective way is to work through a company whose job is connecting social media content creators with brand collaborations. PopTribe allows creators to browse available products and request the products they are interested in. They then vet and forward the request to the brand collaborations for approval. The products are sent as gifts to Instagram (and other social media) influencers. The influencer uses the product, creates a review, and publishes it on their social media platforms. PopTribe is the go-between. They take the searching, requesting, and qualifying work out of the equation.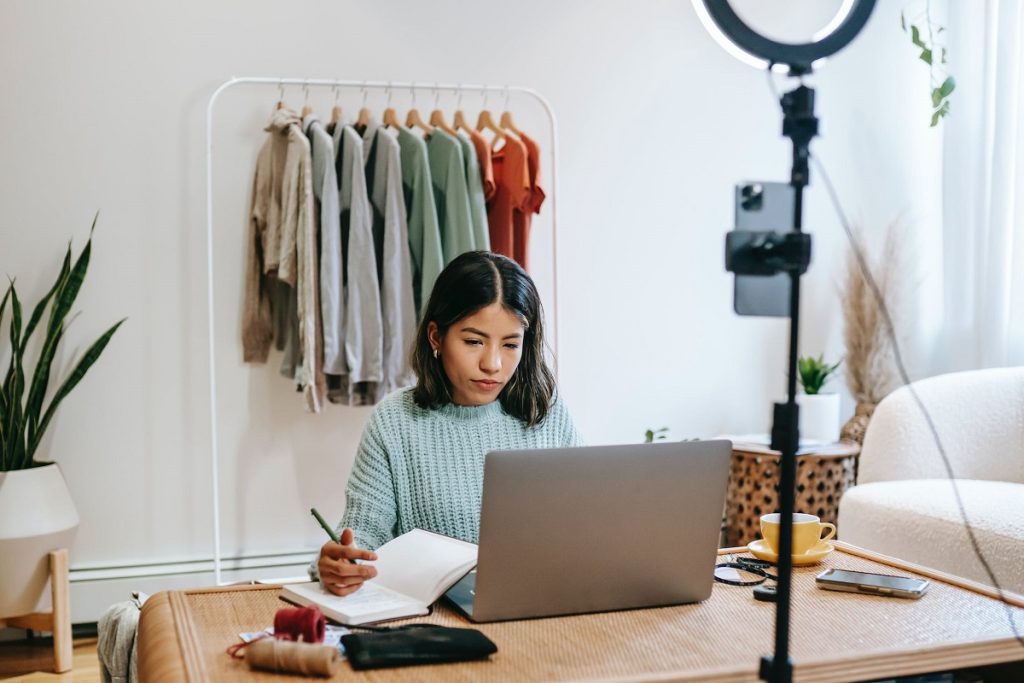 Photo credit: Liza Summer
Be a great content creator
There are plenty of social media content creator jobs if you are good at your trade. Content is a key driver of engagement and a great way to reach out and collaborate with brands. Good content is a mix of information, fun, and relatable, which keeps people coming back for more.
Compelling content is based on a deep understanding of your audience's needs. You need to know your market's mindset and search queries so you can produce content that is relevant and engaging to them.
Keep up with industry news and trends to stay on top of what your audience is looking for. This will help you create more relevant content and have a greater chance of attracting new visitors to your website or social media channels.
Click here for more tips on how to be a great content creator.
Creating good content takes time, effort, and discipline. Whether it's writing, designing images, or editing videos, exceptional creators work on mastering just one skill and improving their expertise every day.
What do Brand Collaborations expect from content creators?
Collaborating with brands can be a great way to get free stuff and build your brand without spending money. But before you reach out and start collaborating, it's important to know how to do it right. Below you will find a few things that big brands expect from social media influencers:
Only request products that you want to try personally.

If you request a product to review, it should be something that you would actually purchase. For example, if you enjoy running, playing sports, or walking, you should try the latest walking, running, or workout shoes. But if you are unable to do those things, you cannot give an honest review of the product. Only request products that you can use as instructed.

Be Authentic

You must be able to write genuine content. Never copy anyone else's work. The gifts are provided to you so that your opinions are recorded and shared. Your review must be real as the item you were given.

Timely reporting

Watch your schedule and never over-commit. Only request the number of products you can use and review. If you commit to using a product for two weeks and then reviewing it on social media, your review must be on time. Over-committing is a problem some new content creators sometimes fall into. Don't be one of them.
Conclusion
Benjamin Franklin once wrote, "Time is money!" This saying applies here. Creators save time by looking through available products ready to ship to their door. Brand collaborators save time and money by using qualified social media content creators that are in place and ready to give them honest feedback while sharing their experience with their followers.
While you can try to find brands and products on your own to review, you will find this to be difficult at best. Or, you can utilize the PopTribe method. You will soon see why social media content creators agree; this is the most effective way to reach out, collaborate with quality brands, and advance your career.