How To Get Free Stuff on LesPac
LesPac.com Classified Ads is the number one online classifieds website in Quebec. This site provides a free service for people to buy and sell goods and services in Quebec. It is also a fantastic place to get items that people are giving away for free.
LesPac, much like Kijiji in Canada, and Craigslist in US, there are free items, items for sale, services, and equipment for rent. It is estimated that 2,000,000 unique visitors on average each month. With numbers like this, you want to have a strategy to get the prizes you want.
About LesPac – Getting Started
LesPac.com is a classified site that allows people to post ads in various categories such as auto, property, home furnishings, and services like wedding planning and massage. LesPAC Network, a Mediagrif Interactive Technologies subsidiary, owns and operates it. It currently provides a platform for advertising products and services.
When you pull up the site, you are asked to fill out a form to create your account. This is simple and free and only takes a moment or two. You are now able to browse the site.
The LesPac site is amazing. You can choose the location you wish to browse. The ads are clear and understandable; contact information is just a click away. Note: If you have questions, the "contact us" button is easily found on the left of the screen.
Get Free Stuff on LesPAc
To get the free Stuff on LesPAc, you should look across the top of the screen and you will find a tab that reads others. Click that tab. Below the section is a tab that reads "Community." Click that tab next. In this section is a group of photographs of items people are giving away.
When you click on the picture, you get complete details of the item. On the screen's right is the name of the person donating the item and contact information. You simply contact the owner and make arrangements to pick the item up if the item is still available.
Some of the free stuff is in good shape. Some need to be repaired and restored. You will find a lot of items that will work beautifully.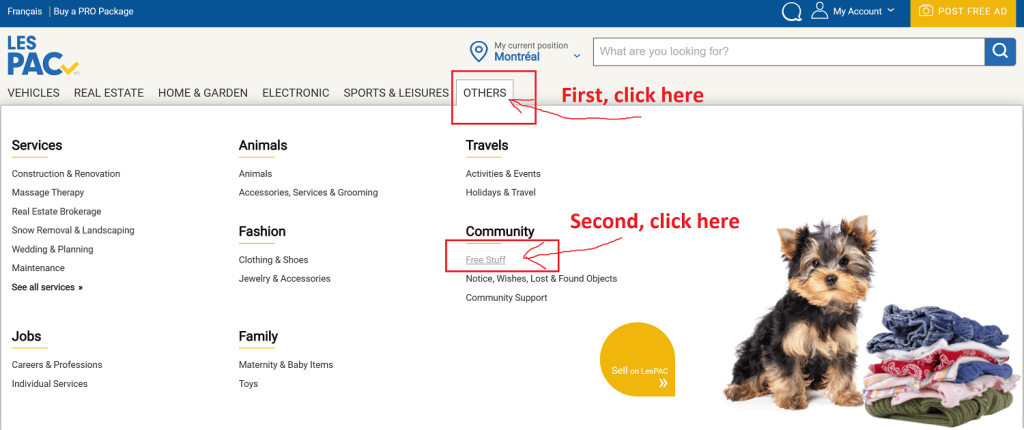 What other kinds of products and services are offered?
LesPac.com Classified is a website for selling and purchasing goods and services online in Canada. It allows users to post free ads in most categories and offers a variety of other features that help users find what they're looking for. The site also offers apps for iOS and Android. Established in 1996, LesPAC is Quebec's premier classifieds platform and Mediagrif Interactive Technologies Inc subsidiary. The company's products and services are dedicated to providing a simple and secure platform for local commerce in Quebec. They have a number of plans for the future, including more affordable advertising options and site features that address changing trends in online shopping.
The company's website is available in French and English, and the service is completely free to use.
Are there charges for using the site?
You can post an ad on LesPac.com for free if you follow our terms and conditions. However, we may charge you a fee if you publish an ad that violates these Terms of Use.
You cannot advertise on this site stolen, counterfeited, or illegal merchandise or items that breach copyright, patents, trademarks, trade secrets, or other property rights held by third parties. You also cannot publish ads for products or services that are banned in your region, on our list of prohibited products and services, or appear to be illegal or contrary to morals.
When you create a membership profile on LesPAC, you agree to provide us with your personal information, including your email address and your postal code. This information identifies you and allows other Site users to contact you for statistical purposes.
There are plenty of sites on the internet to get something for free.
About us – PopTribe
Social media content creators are pros at getting high-quality items for free. Working with PopTribe allows you access to some of the best brand collaborations in the world, and no money is ever required. Your contribution to writing about the product and posting it on your social media sites is all required.
However, if you want new products with minimal effort. Check out PopTribe.com. Poptribe provides you with high-quality products for free. All you are asked to do is write an honest review on your social media sites and share them with your followers. The product is yours to keep. You do not even pay shipping.
If you are looking for how to be a content creator or searching for social media content creator jobs, you have come to the right place. PopTribe prides itself on helping its content creators become their best.
Conclusion on free Stuff
With a little effort, you can snag lots of things you need online for free. As you can get free Stuff on LesPac, you can also find free Stuff on Craigslist and check on Kijiji free Stuff as well. Check out these sites today and make the most of your life without blowing your budget.
And of course, stay tuned. Poptribe will keep you updated on where to find free stuff and how to get them.