Why You Should Keep Your Brand Blog Up To Date With Relevant And Valuable Content
Why is it important to keep updating your blog? For many companies, updating content regularly can seem like a waste of valuable time or staff resources. However, presenting your visitors with relevant and valuable content is crucial for the success of your website and business. Whether it's in the form of blog posts, social media posts, website content, etc. updating content has various benefits.
In this article, we will look at the different reasons for updating your blog regularly.
Why Is It Important To Keep Your Blog Updated With Relevant And Valuable Content?
Content is, without a doubt, the KING of the internet. You may have a perfectly-designed website, the most amazing SEO tactics on-board, but if you don't have any content on your site, there's no reason for anyone to pay you a visit.
The reason why visitors choose to check out your website is because of your engaging content. Of course, there are other factors involved in people staying on a website; however, all of those are secondary to the quality and timeliness of your content.
Let's look at a few reasons why you need to keep updating your blog.
To Present People With Valid Data
The number-one reason why you should keep your blog updated is to ensure that it, and by extension your brand, remains relevant. New discoveries, research and insights take place every single day. If you don't keep an eye out for these new discoveries and update your blog content accordingly, chances are good that your blog will give people outdated information, or worse, information that has since been shown to be incorrect. When people realize your blog content is out-of-date, they won't be interested in staying on your site for long.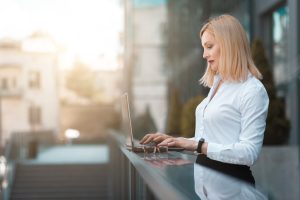 It Helps Maximize SEO
Updating your blog with relevant and valuable content is good for your site's search engine optimization. When you update your content frequently, search engines have more data to index. This increases your chances of showing up on search results. Moreover, when you keep updating your content, you are more likely to include various keywords. This doesn't mean that you do keyword stuffing in your content, but optimizing your content based on high-ranking keywords is important for SEO.
Increase Your Social Media Engagement
Updating content on your blog also improves your social media engagement. When you share industry-related news, posting links to your new articles is a way of showcasing your expertise on the subject-matter, and is likely to stir interest in your audience.
Moreover, sharing links to your social media articles will also help in gaining followers as people come to realize your expertise in your niche.
Increase Social Media Shares
As you keep updating your blog with new and interesting content, people will increasingly find it worth sharing across their social media channels. This gets you exposure to new audiences and increases your chances of getting new followers, visitors, and customers!
Get Return Visitors
While it's important to get new visitors, it's equally crucial to keep your existing visitors coming back for more. When you update your blog with relevant and valuable data, people who have visited you in the past will keep returning for all the latest info. When you prove that you've constantly got your finger on the pulse of your industry, prospects who visit your site are more likely to become loyal customers.
Build Authority
It's every brand's dream to build authority in their niche. Regularly updating your blog and presenting relevant and valuable content is a primary means by which you can make that happen. Writing on particular industry news and trends before your competitors will demonstrate to your target audience that you're a key player in your niche.
More Inbound Links
Links are one of the most important factors for your search engine ranking as well as bringing traffic to your website. As more and more high-traffic blogs and social media influencers share links to your blog posts, this will bring more traffic to your site and improve your SEO.
Utilizing Third Party Influencers
In addition to keeping your own blog up to date, you can gain credibility, increase your brand recognition and grow your sales volumes through the use of micro and nano social media influencers. This has several advantages, the first being that you don't need to utilize staff resources to create the content. Perhaps the greatest advantage is that when someone who your target audience trusts gives your brand their seal of approval, they are far more likely to take that into consideration than any marketing or PR material you may create. In the past, figuring out how to find micro influencers and then managing them appropriately was very resource intensive. Not anymore. Now, you can do all that and more with PopTribe. PopTribe lets enthusiastic social media creators find you by allowing you to offer them free products in return for social media posts. It's a win-win relationship for everyone involved, and PopTribe is here to help you facilitate that relationship. Learn more.