The Ultimate Guide To Kijiji Free Stuff
What is Kijiji?
Kijiji is a great place to start if you're looking for free stuff. While many people visit the site daily to grab free items being given away, it is also a site where you can buy and sell items. It's an online marketplace that allows people to buy and sell almost anything.
Originally a challenger to Craigslist, Kijiji has become Canada's most popular classifieds site. It's used by over 12 million Canadians each month, three times as many as Craigslist.
Just like you can search on Google for "Craigslist free stuff near me," you can search "Kijiji free stuff near me," and Google will take you to the various Kijiji locations.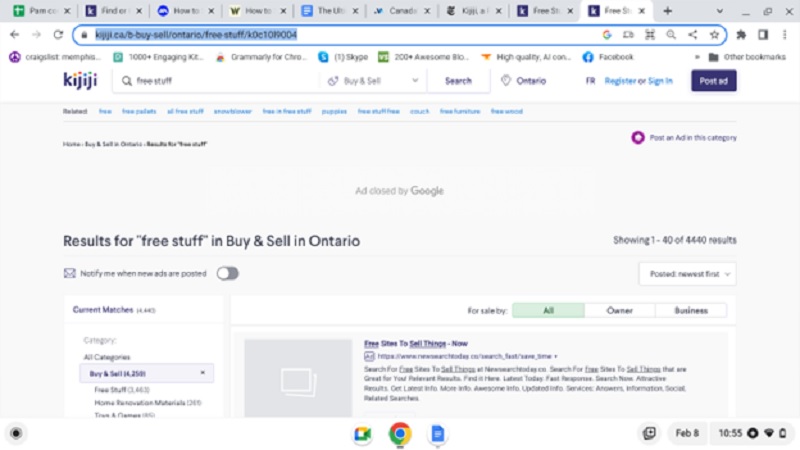 Photo credit: Kijiji.ca
Steps to getting free stuff
Touted as the Canadian equivalent of eBay Classifieds in the US, Kijiji has over 1 million classified ads in more than 100 cities and counting. It has a plethora of cool gizmos to help keep it interesting. Kijiji has been in business since 2005.
When you go to the Kijiji.ca site, you will be asked to register or sign in. This is a free service. You will see a listing for the various cities where Kijiji is offered. Select the area where you want to search.
On the left side of the page, you will find the available items through Kijiji. The second link reads "free stuff" with the number of free items available. You will also find services given away as a promotion. Click on "free stuff," and you are taken to the page where items are given away.
There are several filters across the top of the page. You can see the most commonly looked-for things. You can click any of the links to find what you are specifically searching for
If you look to the right side of the screen, you will see another filter box. Here you can filter the item by newest first, oldest first, best match, etc.
Once you find an item you are interested in, click on the article and see various photos. You can read the description and determine if you want this.
On the right side of the screen is a contact box with the owner's name and a place to message them. Send them a message asking any questions you may have, and arrange to have your item picked up.
Under the message box, you will find a review of the person who ran the ad. It will show how many times they have used Kijiji and what people thought of them. They can earn up to five stars in the ratings. Read the reviews to be sure they are legit and safe to deal with. Of course, it is always wise to use common sense and to take precautions when dealing with a stranger.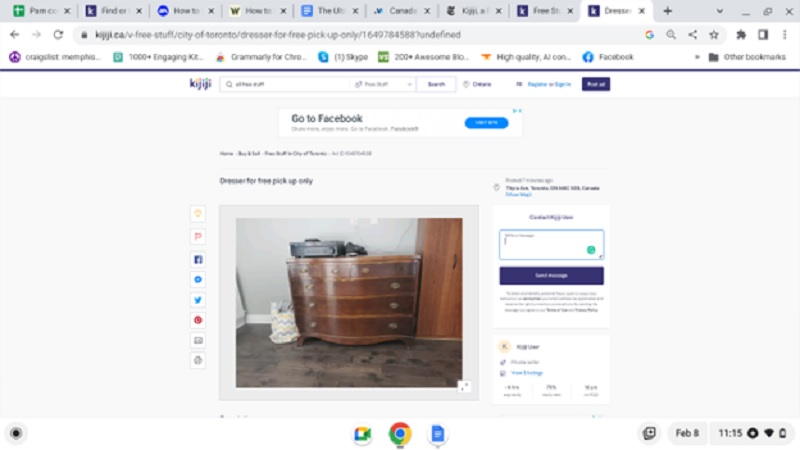 Photo credit: Kijiji.ca
How to list an item
Kijiji is a great place to sell your things. They are a free site with thousands of users, and your item will likely be seen by someone looking for it.
To start, you need to decide on a price for your item. Then, make sure you have great photos.
Having excellent photos is important because they can make or break a sale. You also want to include a description of your item.
For example, if you're selling a laptop, include details like the model and how much it is. It's also a good idea to include the condition of your item and its location.
Before you post your ad, look at other ads on Kijiji to see what similar items are selling for. If you don't get many responses, drop your price a bit.
How much does it cost?
Remember, there are ads on Kijiji for things people are selling. The price you pay to list an item on Kijiji depends on various factors. This includes how much exposure you want your ad to get and whether or not you're charging a buy-it-now or reserve price.
The amount you charge for your items will also depend on how much work you want to put into them. For example, if you're selling a higher-ticket item, you might want to charge a little more to ensure you're covering your costs.
As one of Canada's largest online classifieds sites, Kijiji generates revenue through banner ads, more prominent placement within results, and subscription fees for car dealers and housing rental companies. The company has also tapped into social media networks to engage younger demographics in Canada. As a result, Kijiji has seen its revenue grow 138% yearly in direct deals. They're now Canada's leading marketplace in this area.
Tips for getting the good stuff!
There are plenty of free classified sites to choose from, so what's the best way to ensure your ad is the hit of the neighborhood? First and foremost, follow the site guidelines, and don't be afraid to ask questions. Next, make sure you are listing in the right category and using the correct naming conventions, i.e., ad name, description, and the like. This will ensure that your item is displayed prominently in its class and that you receive the maximum number of bids.
Conclusion
Social media content creators are pros at getting high-quality items for free. Working with PopTribe allows you access to some of the best brand collaborations in the world, and no money is ever required. Your contribution of writing about your experience with the product and posting it on your social media sites is all that is required.
If you are looking for how to be a content creator or searching for social media content creator jobs, you have come to the right place. PopTribe prides itself on helping its content creators become the best they can be. We are happy to make this journey with you. Welcome!