How many followers for Amazon influencer program – Quick Guide
Amazon reigns supreme in online retail, and every brand aspires to establish a presence on this platform. The Amazon Influencer Program has emerged as a potent tool to achieve this objective. But why the fervent desire to make a mark on Amazon? The reasons are crystal clear. With over 500,000 sellers and a staggering 7,400 products sold every minute in the United States alone, Amazon is a paramount retail channel. Furthermore, many customers flocking to Amazon creates an unparalleled opportunity to showcase and sell your products. Are you curious about how this program works and what it can do for your brand? How many followers for Amazon influencer program? You're not alone. That's why we've crafted this concise guide to walk you through leveraging the Amazon Influencer Program to bolster your sales.
Before we start, we would like to take a moment to explain the difference between Amazon's influencer program and their Associates Program.
Amazon's influencer program distinguishes itself from the associates' program primarily through the shopping experience offered by Amazon influencers. Associates simply provide links to items and earn a commission when those links are used. In contrast, Amazon influencers have dedicated storefronts that shoppers can visit to make purchases. These storefronts are typically organized into specific categories. While product sales remain the primary income source for influencers, the product recommendations are tailored to specific niches, providing direct access to all the endorsed products. This setup offers several advantages: both the influencer and Amazon can increase product sales, and social media influencers can focus on creating content without embedding links.
Here is what an Amazon Influencer Storefront Store looks like: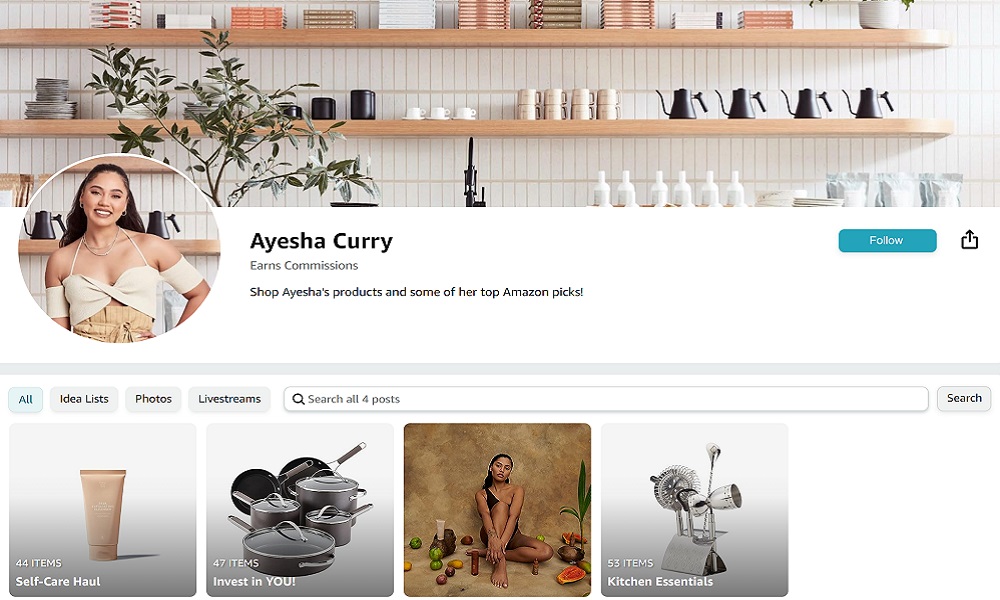 Amazon Influencer Storefront Store Example || Image Credit: Amazon
How many followers for Amazon influencer program: Minimum requirements
The Amazon Influencer Program, an extension of the highly successful Amazon Associates Program launched in 2017, caters to individuals known as Amazon influencers. These influencers boast significant followings on platforms like Facebook, YouTube, Instagram, TikTok, and other social media platforms. The program empowers them to endorse third-party brands available on Amazon to their social media followers.
Once an individual qualifies as an Amazon Influencer, they can create unique store pages complete with personalized URLs. These pages can be customized to their preferences, enabling them to showcase the products they wish to recommend to their audience.
For instance, consider beauty and lifestyle influencers. They can establish an Amazon store encompassing various categories, such as beauty and personal care products, wellness items, home decor, and more, sourced from different brands. The influencer can also include the store link in their social media bio and share it through posts and stories. Each time a person utilizes these links to make a purchase, the influencer receives a commission from Amazon.
However, it's worth noting that not every social influencer easily qualifies for the Amazon Influencer Program. Amazon influencer program requirements are mainly:
Good Social media presence
Decent follower count
Great engagement rate.
The third facet of this program involves brands and sellers. The Amazon Influencer Program facilitates partnerships between brands and influencers, enabling them to jointly promote products listed on Amazon.
If you boast more than 200 followers, you're eligible to apply for the Amazon Influencer Program. Nonetheless, when it comes to Amazon influencer requirements, it's advisable to cultivate a follower base of at least 1000 to enhance your odds of being chosen. Ultimately, the decision rests with Amazon, and naturally, they aim to bring more influencers into their program.
The Amazon Influencer Program: How It Operates
The Amazon Influencer Program facilitates collaborations between sellers and handpicked influencers to showcase their products on Amazon. Esteemed influencers can curate items from various sellers and present them to their social media followers.
This opens up fresh avenues for product discovery and shopping on Amazon through influencer stores. Influencers earn commissions for each purchase made, while sellers witness a surge in sales.
The Amazon Influencer Program is similar to the Amazon Associates program, as both aim to steer more traffic to Amazon. The primary distinction lies in the ability of influencers to craft unique Amazon storefronts, whereas associates can solely promote products via shared links.
Let's dissect the functioning of the Amazon Influencer Program into straightforward steps:
An individual amasses a substantial social media following, establishing themselves as an influencer.
They apply for the Amazon Influencer Program, undergo a selection process, and verify their account.
Subsequently, they establish their Amazon store, collaborate with diverse sellers, and incorporate products for promotion.
They can then promote their store or individual products by sharing links and creating content.
Users clicking these links are directed to the influencer's Amazon store.
With each purchase these leads make, the influencer earns commissions.
When it comes to commission rates, Amazon offers for various product categories: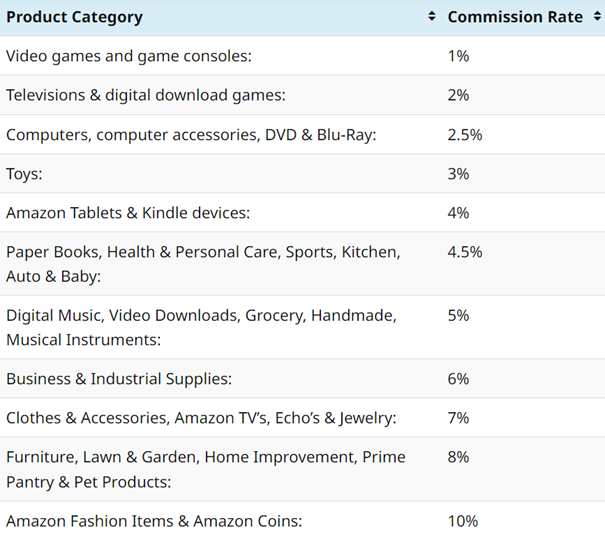 Amazon Influencer Commission Rates || Image credit: Amazon
Final Thoughts
By now, you should have a good understanding of how the Amazon Influencer Program operates. As we explain before, you must have at least 200 followers, better yet, a 1000 follower, to get approved for this program.
When it comes to the Amazon Influencer Program it can be a game-changer for publishers if utilized effectively. The key to harnessing this program to boost sales is choosing the right sellers and products for your Niche followers' main interest (don't choose a motorcycle parts seller to promote for a follower base that is mainly interested in Eco-friendly solutions).
If you have any question in this regard, don't hesitate to get in touch with our team of experts. We can guide you on how to harness the potential of the Amazon influencer program to boost your income.
Feature image: Amazon Influencer Sign Up Page || Image Credit: Amazon