Grow Your Audience with Instagram Followers and PopTribe
Long gone are the days when Instagram was perceived as a fun app for kids.  Nowadays, it's used as a powerful tool for marketing, networking, selling, and building a massive following for people as well as brands.  Over 500 million people view Instagram Stories on a daily basis, a third of which come from renowned businesses.
So, if you want to help your small business grow from a tiny anonymous entity to a key player in your niche, then take a look at the following surefire ways to increase your Instagram followers and harness this powerful platform to spread word about your brand: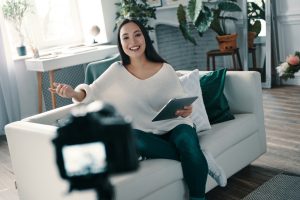 How To Grow Your Instagram Followers
1.    Use the Proper Hashtags
Your primary objective on Instagram is to engage with your existing audience on a daily basis while also focusing on attracting and growing your list of potential new followers.  To do this, it is pivotal to post new but engaging and attractive photos.  But don't just start posting away without utilizing hashtags to your advantage.  The process of hashtagging makes it easier for potential followers/customers to find your photos, especially if you've got exactly what they're looking for.
Of course, this involves using the most appropriate hashtags.  If you use the most popular hashtags for your photos, you're more likely to be discovered by new users.
Some of the most popular hashtags on Instagram include:
#love
#fashion
#happy
#beautiful
#cute
#photooftheday
However, if none of the hashtags we've listed above are actually appropriate for your brand, using them anyway will breed resentment. In those cases, it's both wiser and more effective to use the best-fitting tags rather than those that are most popular. Ideally, though, you'd use a little of each
Experiment Using Various Filters and Dimensions
Filters allow businesses to be creative, but more importantly, they help you stand out from your competition and avoid coming off as generic or bland.  The more unique and enticing your photos are, the more users will want to like and share your post and follow your account.
You can also try some photo-editing apps to give your photos some extra razzle-dazzle.
When using dimensions, don't just stick to square; portrait and landscape options are also available.  Have fun testing out different types of dimensions, and then use those that best complement your photos.
3.    Develop and IGTV Series
A bevy of brands are getting the jump on this feature to engage their audience. Viewers can search for precisely what they want, like how one would watch their favorite movie on Netflix. Keep viewers on their toes with an entertaining offering, and they'll keep coming back for more and share your channel with friends.
4.    Utilize the Power of Influencers
Another excellent tactic to employ for attracting Instagram followers is to follow influencers who have a significant presence in your market. Nano influencers have between 100 and 10,000 followers while micro influencers have between 10,000 and 100,000. Once you discover how to find micro and macro influencers, you can work with them to promote your brand in exchange for free products.
If you've already made some sales, then reach out to those customers and offer them a free cash incentive or gift for taking high-quality pictures of your products.  When customers start seeing photos taken by other customers, they'll naturally want to start tagging your company in their posts and eventually want to buy your products as well.  And if you post a comment on those photos, repost those photos and then follow those users in the process, those users will potentially follow you back.
If you want to harness the power of influencers to spread word about your brand but don't have the time or inclination to manage all those relationships yourself, PopTribe can help. They help influencers find you, and you can choose whether to send them free products in exchange for a quality post referencing your brand.
5.    Post Consistently At Least Once a Day
Tailwind (a visual marketing tool) analyzed over 100,000 Instagram accounts in 2017 to determine how posting frequently can affect engagement and growth rate.  It was ultimately determined that the more a user posts on Instagram, the more followers and likes they're going to get.
The study found that those accounts that posted at least seven times a week end up getting more likes and followers than those that did not post as often.
So, what does this mean exactly?  Simple!  Post consistently.
6.    Instagram Stories
Even as we speak, Instagram Stories are growing by the day.  This feature attracts over 400 million daily users.  In fact, most users report that they would rather watch Stories than scroll endlessly through their feed.
When it comes to businesses, you would be wise to make stories about what you and your staff members do behind the scenes. This might mean giving  your followers an inside look into your company's work culture.  You can include music, polls, questions, and quirky gifs in your Stories.  Plus, you can also fiddle with Boomerangs and filters.
Conclusion
These are some of the many unique tactics that you could use to nab more Instagram followers.  And remember, you don't have to go with only one strategy over the other.  In fact, you can use all of them to increase your visibility over time.
If you want to jumpstart your Instagram presence and spread word of your brand more quickly, you can utilize a platform such as PopTribe. With access to a vast array of creators who post quality, organic content, you'll be able to more quickly escalate your brand recognition and begin bringing more enthusiastic traffic straight to your site. Learn more and join The Tribe today.